Healthcare Design Trends 2.0
Lara Tにより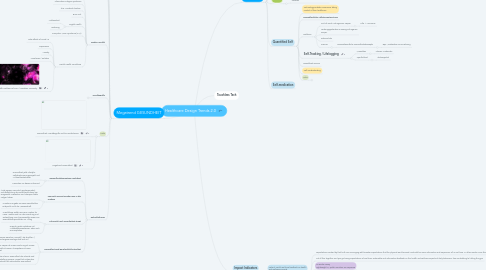 1. Touchless Tech
2. Impact Indicators
2.1. Instant, useful real-time feedback on health and wellness impacts.
2.1.1. expectations created by that truth are converging with broader expectations that the physical world around us should be more informative and responsive, all in real time. In other words, more like the digital world.
2.1.2. Put all this together, and you get rising expectations of real-time, actionable and informative feedback on the health and wellness impacts of daily behaviors, from sunbathing to hitting the gym
2.1.3. La Roche-Posay Lightweight UV patch monitors sun exposure
2.1.4. Oral-B Toothbrush uses location-tracking technology to provide real-time feedback
2.1.5. SmartSpot Smart mirror helps gym-goers improve their form
3. Biotelemetry
3.1. Biotelemetry -> Wearbales, Digital Sensors
3.1.1. Bio-telemetry collects useful data through digital sensors to monitor vital signs such as heart rate variability through a certain period, usually a day. These data offer individuals insight into their health status, helping them to take proactive steps to improving their health.
3.1.2. Gesundheitsinformationen aus den traditionellen jährlichen ärztlichen Untersuchungen und andere Untersuchungen, die zuvor nur bei einer Operation oder in einem Labor verfügbar waren, werden durch Daten von Sensoren an bzw. um unsere "intelligenten" Körper (auch in Kleidung und schließlich in der Haut und im Blut) ersetzt und in Echtzeit zugänglich.
3.2. Intelligent Fabric
3.3. Biofeedback
3.3.1. The learned self-regulation of the autonomic nervous system through monitoring of the physiological activity occurring within an individual
3.4. (Health and Wellness) Monitoring
3.4.1. Sensors
3.4.1.1. Wearable
3.4.1.2. Ambient
3.4.2. Wellness Assesment
3.5. Ideen
3.5.1. Wearables -> Statt Sensorik mit AKTORIK arbeiten
3.6. Quantified Self
3.6.1. Technology-enables consumers taking control of their healthcare
3.6.2. Gesundheitliche Selbstverantwortung
3.6.3. Gefahren
3.6.3.1. Out-of-Touch mit eigenem Körper
3.6.3.1.1. Pille -> Hormone
3.6.3.2. Leistungsgedanken im Bezug auf eigenen Körper
3.6.3.3. Datenschutz
3.6.3.4. Genuss
3.6.3.4.1. Genussfreundliche Gesundheitskonzepte
3.6.4. Self-Tracking / Lifelogging
3.6.4.1. Wearables
3.6.4.1.1. Fitness Armbänder
3.6.4.2. Sportlichkeit
3.6.4.2.1. Statussymbol
3.6.5. Quantifiied Seniors
3.6.6. Self-Understanding
3.6.7. Links
3.6.7.1. Wiki-Health: From Quantified Self to Self-Understanding
3.7. Self-medication
4. Ambient Wellness
4.1. Patients and caregivers will demand more of their physical—and virtual—experiences.
4.1.1. Healtcare environments will become more engaging -> changing attitudes & technology
4.1.2. f.e. Waiting Rooms -> acceptance of long waiting times will decrease
4.2. Heilende Gebäude (statt Krankenhäuser)
4.3. Healthy Habitats
4.3.1. COVID-secure spaces and reduced contamination risks
4.4. Physical Spaces
4.4.1. Health-Boosting Measures
4.4.2. Spa experiences at home
4.5. Smart Home / Assisted Living
4.5.1. Ambient Assisted Living Environment
4.5.2. Senioren
4.5.2.1. Age-related disability
4.6. Ambient Wellness Examples
4.6.1. Starbucks + Phillips energy-up lamps
4.6.2. Qatar Awirways + Air filtration + lamps to compat jetlag
4.6.3. Kit Kat + Massage billboard
4.7. Definition
4.7.1. Health boosting features – embedded into the environment.
4.7.2. Ambient wellness - The convergence of health and self-care (brought into sharp focus during 2020) will unbundle the spa and bring it into homes, shops and elsewhere.
4.7.3. Rise in calming / ambient music like lo-fi
4.7.4. Make staying healthy effortless
4.8. Ambient Assisted Living
4.8.1. Definition
4.8.1.1. Vorteile
4.8.1.1.1. Erhöhrung der Sichrheit / Auwertung des Privatlebens
4.8.1.1.2. Unterstützung täglicher Aufgaben
4.8.1.1.3. Zugang zu sozialen und medizinischen Notfallsystemen
4.8.1.1.4. Überwachung der Vitalität und des Gesundheitszustandes
4.8.1.2. "Umgebungsgestütztes Wohnen"
4.8.2. AAL Beispiele/Pflegeprodukte
4.8.2.1. Demenz
4.8.2.1.1. Türsensoren
4.8.2.1.2. GPS Tracker
4.8.2.1.3. Erinnerungssysteme -> z.B. Trinken
4.8.2.2. macht sich die Technologien des Smart Home zunutze und erweitert deren Anwendung für den Bedarf von Menschen, die Pflege benötigen
4.8.2.3. Heimvernetzung durch eine zentrale Benutzerschnittstelle
4.8.2.4. Sensorische Raumüberwachung und Vitalüberwachung u.a. zur Notfallhilfe
4.8.2.5. Herd mit Abschaltsystem
4.8.2.6. Toilette mit Intimpflege
4.8.2.7. Aufstehhilfe
4.8.2.8. Medikamentendispenser mit Erinnerungsfunktion
4.8.2.9. Vitalsensoren
4.8.2.10. Sicherheit durch multisensorische Überwachung
4.8.2.11. Komfort, zentrale Fernsteuerung
4.8.2.12. Sozial
4.8.2.13. Gesundheit
4.8.3. Active Assisted Living
4.9. Omipresent healthcare: Hospitals "without walls"
5. "Patient empowerment"
5.1. Calibrated Health
5.1.1. Get ready for the age of individualization.
5.1.2. expectations of personalization
5.1.3. Wiivv Insoles
5.1.3.1. BASE by Wiivv - Custom, 3D Printed Insoles
5.1.4. Design My Day
5.1.4.1. Design My Day
5.2. Distributed Diagnosis
5.2.1. New, innovative and seamless ways to access health services.
5.2.1.1. rising expectations that traditional health services, processes, tests and treatments are made accessible via innovative new channels. Those expectations are being driven, of course, by time-pressed, ultra-demanding consumers who want what they want, when they want it.
5.2.1.2. Vodacom Hearing test via smartphone
5.2.1.3. Yili Handles on bus measure key health metrics
5.2.1.4. DISTRIBUTED DIAGNOSIS is about using new channels to reach consumers with health and wellness offerings. For those who want to go further, consider the other side of the CONTEXTUAL OMNIPRESENCE coin: new customer contexts. How can you use new information about consumers – their preferences, daily behaviors, mood, and more – to be there when they need you?
6. Medical Planning
6.1. Digital twins
6.1.1. An increase in the amount of data available is also likely to result in better simulations in the medical industry. One of these innovative simulations is known as a digital twin, digital recreations of systems regularly informed by sensors. Hospital wards or entire healthcare models could be simulated to predict potential complications in advance, allowing medical workers to prepare.
7. Megatrend GESUNDHEIT
7.1. Preventive Health
7.2. Lebensqualität
7.3. Self-Tracking
7.4. Medical Fitness
7.5. Sportivity
7.6. Modern Health
7.6.1. Mental Imbalance Youth
7.6.2. Information Fatigue Syndrome
7.6.3. The "constant checker"
7.6.4. Burn-Out
7.6.5. Digital Health
7.6.5.1. Achtsamkeit
7.6.5.2. Detoxing
7.6.6. Computer Vision Syndrome (CVS)
7.6.7. Mental Health Conditions
7.6.7.1. Side-effects of Covid-19
7.6.7.2. Depression
7.6.7.3. Anxiety
7.6.7.4. Loneliness / Isolation
7.6.7.5. Top 10 Public Health Problems of 2021 | Goodwin University
7.7. Trendbegriffe
7.7.1. Holistic Health
7.7.2. Downaging
7.7.3. Fem-Tech
7.7.4. (Post-)Corona
7.7.4.1. Gesundheitssystem mehr als ausgereizt
7.7.4.1.1. Kliniksystem auf Krisenmodus
7.7.5. Well-come
7.7.6. Healing Architecture
7.7.7. Germophobia
7.7.8. Bike Boom
7.7.9. Corporate Health
7.7.10. Immun-Boosting
7.8. Links
7.8.1. Gesundheit: Trendbegriffe und ihre Definitionen
7.8.2. Megatrend Gesundheit
7.9. Zukunftsthesen
7.9.1. Gesundheitskompetenz explodiert
7.9.1.1. Gesundheit jetzt Lifestyle, Selbstoptimierungsprojekt und Achtsamkeitsstreben
7.9.1.2. Menschen nie besser informiert
7.9.2. FemTech sprengt Gender Bias in der Medizin
7.9.2.1. Ärzte agieren vermehrt gendersensibel, Nichtbeachtung des Geschlechts kann bei Diagnostik, Prävention und Therapie fatale Folgen haben
7.9.2.2. Annahme es gäbe nur zwei Geschlechter entspricht nicht der Wissenschaft
7.9.3. Sehnsucht nach Keimfreiheit steigt
7.9.3.1. Unsichtbare Gefahr wirs zum Treiber für neue Märkte rund um die Forschung und Entwicklung von Pharmazeutika sowie von Desinfektionsprodukten im Alltag
7.9.3.2. Gründe_Reale Probleme mit Antikbiotikaresistenzen, aber auch Germophobia
7.9.4. Gesundheit wird ganzheitlich betrachtet
7.9.4.1. Grenze zwischen Umwelt ("da draußen") und eigener Biologie löst sich auf
7.9.4.2. Unser Körper ist unsere Nachrung ist unsere Umwelt ist unsere Atmosphäre ist unser Planet
7.9.4.3. Alles ist eins: Gesundheit des Planete und Gestaltung unserer Umwelt ist untrennbar verstrickt mit individueller Gesundheit