ARTIFICIAL STRUCTURES
Patri Gómez Valleにより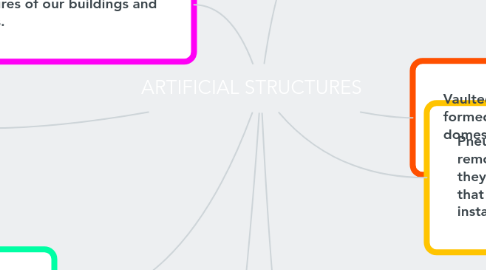 1. Massive structures: Earliest man-made constructions were very heavy and massive
2. Vaulted structures: They are formed by arches, vaults and domes.
3. Frame structures: They are the structures of our buildings and houses.
4. Triangulated structures: they are usually made up of metal or wooden bars.
5. Suspended structures: they are based on the use of cables from which the structure hangs.
6. Pneumatic structures: they are removable and light, therefore they are used in constructions that must be transported and installed quickly and easily.
7. Laminated structures: they are made of thin sheets of metal, plastic or composite materials such as reinforced concrete.
8. Geodesic structures: they are three-dimensional structures made up of bars, that combine the properties of vaults with those of triangulated structures.