DESCRIPTIVE CIENTIFIC TEXTS
Door Toto Garcia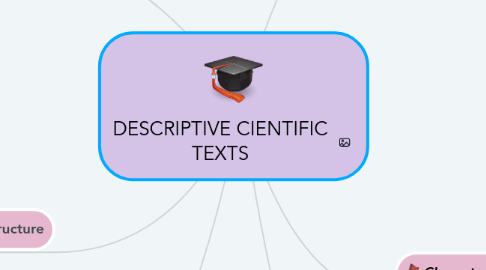 1. What is?
1.1. Written from and directed to a specialized scientific community.
2. Characteristics
2.1. Be expository and objective
2.2. They must be clear, precise, universal and verifiable.
2.3. Its brevity or length depends on the type of text: an article, a thesis, a presentation or a book.
2.4. They generally have a main author and several collaborating authors, involved in the research.
2.5. They present the results of a set of experimental, field or any other type of research, emphasizing the formal, the methodology followed and the results.
2.6. They have a technical language, which generally requires a level of prior knowledge on the part of the reader.
3. Types
3.1. Articles.
3.2. Reports and monographs.
3.3. Conferences and presentations.
3.4. Informative texts.
4. Structure
4.1. Title and list of authors.
4.2. Summary or abstract.
4.3. Introduction.
4.4. Content.
4.5. Thanks.
4.6. Annexes.
4.7. Bibliography.
4.8. Express authorization of data use.
5. Sources
5.1. Texto Científico - Concepto, tipos, estructura y características
5.2. http://hutchinsweb.me.uk/UEAPIL-1977.pdf
5.3. https://dergipark.org.tr/en/download/article-file/296314
6. Equipo 6
6.1. Garcia Molina Roberto Gomez Garcia Jesus Yael Guitierrez Camacho Teresa Marilu