Global Knowledge Program
por monica serafini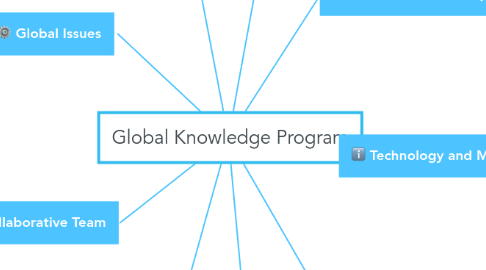 1. Global Issues
1.1. Current Events
1.2. International News
1.3. World Happenings
2. Technology and Materials
2.1. computers, outside resources, and programs to permit students to discover and connect with other nations
2.2. research current events and world happenings.
2.3. Newspapers, Magazines, Media, Tele Conferencing
3. Collaborative Team
3.1. Administration
3.1.1. Project specifications
3.1.2. End User requirements
3.1.3. Action points sign-off
3.2. Teacher Leaders
3.2.1. Top Priorities
3.2.2. Medium Priorities
3.2.3. Low Priorities
3.3. Teachers and Specialists
3.3.1. Top Priorities
3.3.2. Medium Priorities
3.3.3. Low Priorities
3.4. Students
3.5. Project Manager
4. Parent Support
4.1. Schedule a night to educate parents about the program and encourage them to continue the immersion at home.
4.1.1. Materials
4.1.2. Personnel
4.1.3. Services
4.1.4. Duration
4.2. Discuss the importance of the program and explain the expected goal of the program.
4.3. Offer more educational opportunities for the parents.
5. Professional Developement
5.1. Teach teachers the program during monthly meeting.
5.2. Continued meetings monthly to discuss anything. Share ideas and resources.
5.3. Give insight into what is working and what is not working.
6. Problem Solving Skills
6.1. Use problem solving, critical thinking, and higher order thinking skills to solve real life world issues.
7. Student Collaboration
7.1. Create interpersonal relationship skills
7.2. Collaboration with others (teamwork). Learning to work with others is an essential life skill.
7.3. Conflict management. Learn how to deal with problems and create solutions to those problems in regards to working with others.
8. Student Lead Classroom
8.1. Teacher passes leadership role to the class.
8.2. The voice of the classroom is the voice of the students.
8.3. Students in control. All are engaged in the learning process.
8.4. Create global citizens.
9. Purpose
9.1. Teach real life skills. Teamwork. Problem solving skills. Critical thinking skills. Interpersonal relationship skills. Decision making skills.
9.2. Teach global issues. Teach current global events.
9.3. Solve real life problems.
9.4. Create global citizens who can strive in a global society.
9.5. Leadership skills