21st century skill requirements for teachers and learners
por Samuel Wirtz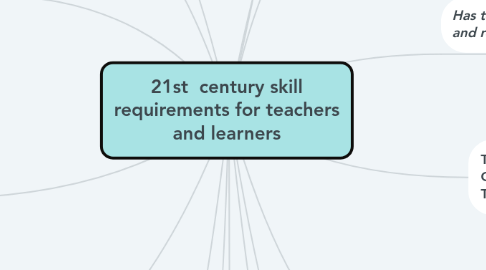 1. Teamwork and leaderhip
2. Problem solving
3. Skills contribute to economic growth
3.1. Main goal: creating, producing, presenting and publishing
3.2. More efficent work environment
4. Teachers and learners have to be able to use a computer effectively
4.1. They have to know different manipulations like keyboard shortcuts
4.2. They should also be able to type a text quickly
4.3. They should not hesitate too much on how to handle (common) programms
5. Usefulness of these skills outside of sole economic purpose
5.1. People internalize team spirit and solidarity, which leads them to feel collectively whole
5.2. Critically thinking defuses crisis situations
5.3. Digital communication enables people to meet and to work together, when other means of communication are not available
6. Have to know how to use the internet correctly
6.1. A teacher has to be able to teach children how to find good and reliable information
6.2. Should find an answer to his question quickly
7. Has to be able to learn unlearn and relearn
7.1. Quote by Alvin Toffler
7.2. By this quote he wants to explain that the illiterate of the 21th century won't be the person who can't read and write very well.
7.3. The computer will help those people to correct their texts and read them
8. Teachers should use Computers, Smartphones and Tablets in their class
8.1. They should stop competing and forbidding them
8.2. Children know them nearly from they birth on and they like to work with them
9. Teachers have to think about tomorrow, not today
9.1. Very fast changing world
9.2. Learners shouldn't be prepared for today when tomorrow everything has changed
9.3. Teach students how to adapt to new situations
9.4. Teach students how to act/react very fast
10. Adaptability
10.1. Reacting very fast
10.2. Very fast changing world
10.3. Ability to adapte to every situation
10.4. Being able to learn new things in a short time period
10.5. Not being stuck in the past
11. Tutoring
11.1. Beaing a tutor/leader/collaborator/facilitator/analyst istead of an instructer/ "dictator"
11.2. students and teachers can be tutors
11.3. Helping students to improve their own existing skills
11.4. self-learning
11.5. self-determination
12. Student in the center of learning
12.1. adapting to his needs
12.2. to build on his knowledge
13. High dynamic and constant change
13.1. We have to develop comprehensive skills
13.2. flexibility & adaptability
13.3. creative problem solving & critical thinking
14. Education practices
14.1. teachers need to encourage students in their creativity
14.2. teachers need fundamentials in computer science
14.3. teachers need to transfer students a suspicious look against digital informations
14.4. teachers need to expand the relationship between students and nature
14.5. teachers need to diversify the different learning approaches
15. Have be able to incorporate multiple principles, theories and knowledge
15.1. to be able to design lessons, that work for all the students
15.2. Combination of technological, pedagogical and content knowledge
15.3. be life-long learners
16. New roles for the teacher in the 21st century
16.1. In the 21st century, a teacher should have different skills:
16.1.1. He should be a role model for his students.
16.1.2. He should be open to new learning pathways and teaching methods and try to educate himself more and more.
16.1.3. He must be able to think critically, but he should not be too strict with himself.
16.1.4. Be able to put himself in the position of each student, support them and help them develop into a unique personality.
16.1.5. It was intended to give students freedom, but students should always be supervised.
16.1.6. He should bring creativity and flexibility to the class.
16.1.7. He must be able to work with digital media and find his way around the digital world as a whole.
16.1.8. He must bring class dynamics and have a good relationship with his students.