1.9 Describe how diversity (cultural, ethnic, multigenerational) and ethics affect the selection of projects and programs
por Bashir Awik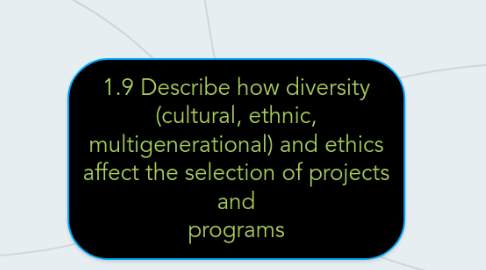 1. Cultural
1.1. It is through individual values that culture is defined, and provides broad social guidelines for desirable standards.
2. Multi-Generational
2.1. old people and young people
2.2. people would not sell newer games like Grand Theif Auto to old peope they would sell it to younger people.
3. Ethics
3.1. Ethical issues revolve around our working relationship with other team members. They may vary from one culture or region to the other as they are based on the norms, values, thoughts and beliefs of the individuals.
4. Ethnicity
4.1. If you dont have an actor that is a specific ethnicicty then they find an actor that acts like the specific one.
5. Examples
5.1. if a movie cant find an asian actor, then they will find an actor that can play one.